Care Team
---
Dr. Emmanuel Kandkhorov, DDS
Dr. Emmanuel Kandkhorov is passionate about dentistry! He found interest for his profession at a very young age, and after 23 years he still enjoys this field of medicine! His commitment to excellence emphasizes the technical side of dentistry, reflects a strong component of humanism, kindness and compassion. After gaining the insight into patient's concerns, dental needs, fears, previous dental treatment and financial affairs, an individual treatment plan is prepared and presented. After practicing dentistry in Los Angeles and Boston, Dr. Kandkhorov has been serving Sacramento Community for the last 15 years!
Dr. Jerry G. Castro, DDS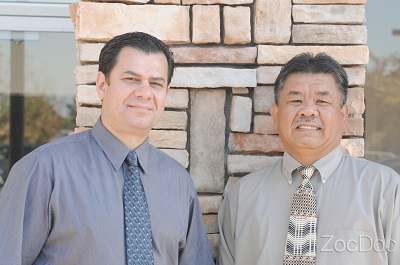 Dr. Jerry G. Castro has graduated from Virgen Milagrosa University in 1984, where he was presented with The Best Clinician Award for his academic accomplishments. In the beginning of his career, Dr. Castro had the opportunity to associate with dental technicians for over ten years, and it significantly increased his knowledge and experience in the area of removable prosthesis. His dental experience of over 20 years and continuous training keeps him highly skilled in all phases of dentistry.
He lives in Elk Grove with his wife and two children, and in his spare time he enjoys gardening, fishing, watching NBA games, and playing pool.

Since joining our group in 1998, Dr. Jerry G. Castro has been providing excellent dental care to our patients, and demonstrated extreme dedication and enthusiasm. He accepts all adult patients as well as children over 12 years of age.
All of our dentists are current members of the America Dental Association, California Dental Association, and Sacramento Dental Society.
---